CoriTap Calendar ... check regularly for gigs and other events
Coming up
No records were found!


Previous events
Thursday July 30 2015 9:00 pm
WILL EDMUNDS BAND

The Will Edmunds Band is a blues and funk outfit featuring Will on guitar and vocals, keyboardist Ev Newman, and the hard-grooving rhythm section of Miguel Andrews on drums and Chris Lee on bass.

The band perform interpretations of classic numbers from the likes of Robert Johnson, The Three Kings (BB, Albert and Freddie!) and The Meters, with a sound that's tight and fresh yet retains that old-school mojo!

Adm/£4
---
Thursday July 23 2015 9:00 pm
BARTOUNE

Charlotte Ostafew (baritone sax/vocals), Seb Gutiez (guitar) and Tom Allen (double bass) step out of the excellent Zen Hussies and forge this unique and compelling Hot Club style outfit.
Mediterranian vibes, 40s swing... their fresh sound and variety of instruments and rhythms keeps any audience interested. Gypsy Jazz, classic songs, mellow clarinet tones, and driving bari sax , all underpinned by the tight swing of vibrant guitar and bass.
Adm/£4
---
Thursday July 16 2015 9:00 pm
MOLLY & THE KINGS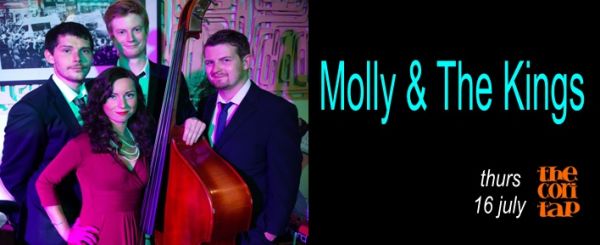 Molly and The Kings are an upbeat jazz, soul and r&b quartet who perform and slick arrangements of traditional standards, swing and juicy soul numbers plus great originals.
Molly's vibrant and unique soulful vocals offer the band a fresh and modern feel, giving them a prominent and distinctive sound within the Bristol Jazz scene.
Band members: George Cooper, keys; David Guy, bass; Sam Pullum King, drums.
Adm/£4
www.facebook.com/mollyandthekings


---
Thursday July 9 2015 9:00 pm
PETE GAGE "LEFT OVER BLUES" CD LAUNCH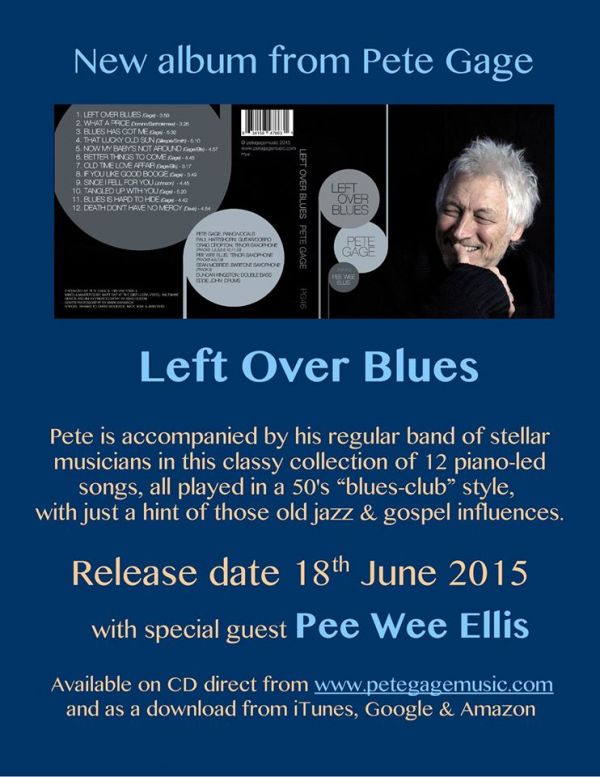 Pete's latest 12-track album, "Left Over Blues", features four regular members of The Pete Gage Band, masters of their craft one and all - Craig Crofton, Paul Hartshorn, Duncan Kingston and Eddie John - and special guest saxophonist, Pee Wee Ellis.
Adm/£5
Here's a taste of what's to come... this will be a GREAT gig!!!
'Blues Has Got Me':
www.youtube.com/watch?v=86jvwjauA8k&feature=youtu.be
www.petegagemusic.com
---
Thursday July 2 2015 9:00 pm
JAWS

Funk, soul and blues, originals and covers with vocalist/bass guitarist William Cartwright and guitarist James Mills - both new to The CoriTap - joined by Anders Olinder on keys and drummer Arjun Magee.
Will is at the forefront of the UK Soul/Dubstep/EDM scene, and has performed at Glastonbury Festival countless times with various established DJs and bands as well as with his solo project. His recent feature on dubstep producer Joker's single "On My Mind" reached over a million hits on YouTube and is regularly played on BBC1 Radio.
Adm/£4
---
Sunday June 28 2015 7:00 pm
BLUES REUNION COLLECTIVE!

Featuring Steve Payne, Paul Hobday, Eddie Denny, Lee McCrory
and John Fenlon..... BLUES as only they know how!
Doors @ 6 / Gig @ 7 / Adm/£5
Steve and Paul from their album 'Raise a Glass' released 29 March 2015:
https://stevepaynepaulhobday.bandcamp.com/releases
Lee and Eddie a couple of years back (with the wonderful John Pearce). Bexfilms.
https://vimeo.com/38749379
A great track from John Fenlon's album '3 Cold Beers' featuring John, vox, with Beth Rowley and Stew Jackson (Phantom Limb) on pedal steel guitar. Bexfilms.
https://vimeo.com/58274367
---
Thursday June 25 2015 9:00 pm
TRIP THE SWITCH Debut Album Launch

"Come down to The CoriTap for the release of Trip The Switch's first ever album! This is going to be a storming gig with all our latest songs from the album and all things FUNKY!.
Support from Jessica Murray performing an acoustic set full to the brim of pop, folk and acoustic cover arrangements.
Music starts at 9pm! Don't miss out :) See you all there! TTS x"
www.triptheswitch.com
Adm/£4
---
Thursday June 18 2015 9:00 pm
THE SLIMLINE SHUFFLERS

This Bristol-based band play a New Orleans style of rhythm'n'blues pioneered by such luminaries as Professor Longhair, James Booker & Dr. John.

Eric Arthur, Bristol's finest exponent of this piano style, provides a virtuosic base and is joined by Henry Slim bringing horn-like amplified harmonica & baritone vocals to the mix. They're complimented by drummer Eddie John, whose mastery of the sticks makes dancing hard to resist!

Adm/£4

---
Thursday June 11 2015 9:00 pm
DeLOREAN SWING

DeLorean Swing are a Bristol-based jazz and funk band. Tonight's quartet from the big band will present well-known jazz standards featuring the sweet sounds of Michael Deniran on keys, the bopping melodies of guitarist Joe Armer, swinging bass lines from Tim Rabbit and the mesmeric drum lines of James Townsend.

Adm/£4

---
Monday June 8 2015 9:00 pm
BRISTOL UNI CORIBAND



Funk, jazz, swing, soul and more with great musicians from
Bristol Uni's Big Band Society.
BUBBS have had a residency here for more years than we can remember... ALWAYS hugely popular nights... good time guaranteed.
There'll be partying!!!
Adm/£4 (£3 w/ student card)
---