Welcome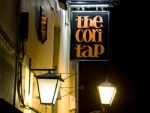 … to the world-famous Coronation Tap! Clifton's original, and still its only, ciderhouse. Situated next to Brunel's magnificent Suspension Bridge, this legendary centuries-old venue is also a major attraction with a phenomenal global reputation! Equally well-known as The Cori, The CoriTap, or The Tap, it's the ciderhouse with media profile, and you have to experience it!
You'll be spoilt for choice with a superb selection of ciders including The CoriTap's very own EXHIBITION! Produced exclusively for us - you can't get this anywhere else on the planet.
The CoriTap's also a incredibly popular LIVE MUSIC VENUE - not just with audiences but with many of the most talented musicians around who love to play here. Their support resulted in us being chosen as one of just six finalists in The Publican "UK Music Pub of the Year 2009, 2010 and 2011" Awards, and we were named the southwest's "Best Live Music Pub" in the Great British Pub Awards 2011.

Every August, to showcase all that we have on offer, we hold our annual CoriFEST, a weekend-long festival packed full of gigs, ciders of course, plus marquees, BBQ, hogroast, etc. Called "Clifton's event of the year", you really don't want to miss it!
And from all this and much, much more, not surprisingly perhaps, a new word has evolved in "Bristol speak" - "CORRIED" - which, loosely translated, means to have enjoyed your vist here.
Intrigued? Then we look forward to seeing you!